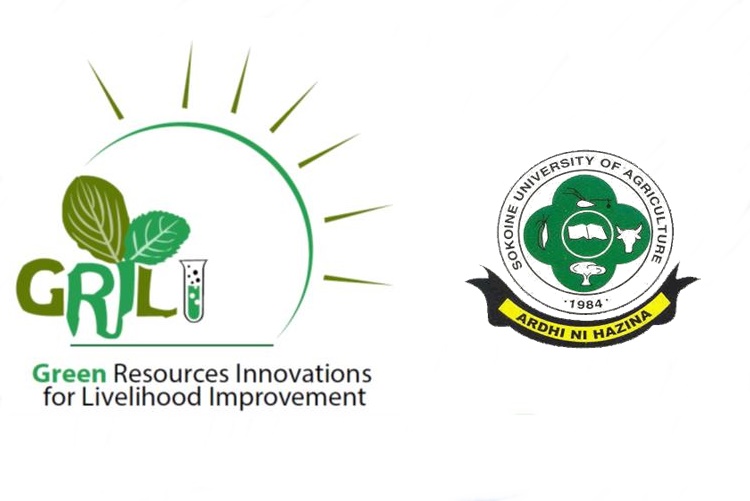 Background
Sokoine University of Agriculture (SUA) and other partner Universities and research institutions in Tanzania, in collaboration with the University of Copenhagen (UCPH) is implementing a collaborative research project titled "Green resources Innovations for Livelihood improvement (GRILI)".
The project is supported by the Danish Development Agency (DANIDA) and its main objective is to contribute to the improvement of people's livelihood through generation of scientific knowledge and commercialization of Green Resource Products (GRPs) in Tanzania. The Project will use two plant species, Synadenium glaucescens and Commiphora swynnertonii, as model plants for adding value and up-scaling technologies. Furthermore, these two GRPs will be used to establish simple analytical screening methods for assessment of quality and safety and as a background for establishing business models.
Call for Applications
We are pleased to announce a call for applications for MSc by research within the fields of phytochemistry specifically on identification and characterization of antimicrobial active ingredients and quality assurance of GRPs in Tanzania. The aim of the scholarships is to support higher education and training of Tanzanian scholars working or with potential to work in research and academic institutions. Selected MSc candidates will register as full time MSc in research/by thesis students at SUA. The distribution of positions is as follows:
MSc position
MSc #1 Analytical chemistry
Topic
The focus will be on structure analysis and toxicity studies of pure compounds of selected plants. A candidate with proven laboratory and research experience within natural Products analysis/phytochemistry/formulation area will be preferred for this MSc position.
Eligibility (specific field to be chosen by the applicants)
MSc students: Holders of BSc Education (Chemistry and Biology) degree in Natural products and Value addition, Phytochemistry, Chemistry, Ethnopharmacology, Biology, Ethnomedicine, Traditional medicine, Bachelor of Pharmacy or other equivalent bachelor's degree. Experience with Phytochemistry work from a recognized University will be an added advantage.
The applicant should be/have/posses:
The requirements for MSc admission at SUA and possess a valid admission/provisional admission letter offered by SUA. The requirements for MSc by thesis admission are available at the SUA website from Directorate of Research, Postgraduate studies, Technology transfer and Consultancy (DRPTC) webpage http://www.dprtc.sua.ac.tz/
Highly motivated to develop a scientific career and capability to complete MSc studies within 2 years.
Intention to undertake research on Phytochemistry in Tanzania.
Not already enrolled in a MSc programme and embarked in another research project.
Willingness to conduct long-term field studies at study sites along the Eastern Arc Mountains regions; work in a team and have a strong ambition to accomplish the research goals of the project.
Good academic records /transcripts with excellent communication skills.
Perspectives on future use of MSc skills for teaching, research and extension.
Full time availability from November 2019 or as soon as possible for a period of 2 consecutive years.
Prepared to travel within and outside the country.
How to apply
Potential applicants are hereby invited to submit the following:
Motivation letter,
Curriculum vitae maximum two pages (including information on academic carrier and specialization and publications),
Academic transcripts and certificates,
Two names of academic referees whereby at least one of them being the immediate work supervisor.
Applications MUST reach the DANIDA GRILI Project Coordinator by 30th October 2019. Only selected applicants will be invited for the interview (online or physical) before the 4th of November and the final decision will be reached before 1st December 2019. Female candidates are highly encouraged to apply.
The applications should be submitted electronically to: Dr. Faith P. Mabiki; E-mail: fmabiki@sua.ac.tz and copy to flufuo1@gmail.com
Responsibilities
The MSc fellows' tasks will be to study and report on their selected research question within the context of this project depending on the area of research. The interconnected sub-studies will require intensive interaction with the programme leader, research collaborators, supervisors, PhD students and other Post Doc in the programme. The progress of the Post Doc and MSc fellows' work will be evaluated annually or as will be deemed necessary by the Supervisors and/ or the Project Coordinator. It is expected that each of the MSc fellows will publish two to three papers in International peer reviewed journals and three to four for Post doc.
Financial matters
The scholarship will cover tuition fees, a monthly stipend and research costs based on successful deliverables and SUA guidelines.
Further Information about DANIDA GRILI Project
Contact:
Dr. Faith P. Mabiki
DANIDA GRILI Project Coordinator
Department of Chemistry and Physics
Solomon Mahlangu College of Science and Education
Sokoine University of Agriculture
P. O. Box 3038, Morogoro, Tanzania
Tel: +255 784 788924
Email: fmabiki@sua.ac.tz / flufuo1@gmail.com