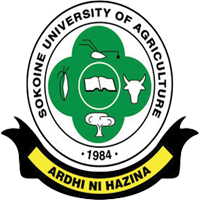 1. PREAMBLE
Sokoine University of Agriculture announces opportunities for Agro-studies internship in Israel for the year 2020/2021.
Agro-studies internship provides a unique internship training in agriculture, combining advanced studies and hands on 'learning by doing', in various fields. By working in selected farms across Israel, the internees will be exposed to the most enabling and stimulating learning environment that nurtures them to learn and develop skills from the most advanced agricultural practices.
Internees will attend classes once a week at three campuses; Tel-Hai College in the North, Ruppin College and Kfar Silver. In addition, each group will be assigned a tutor to accompany them throughout their internship based on area of study and business plan upon return to Tanzania following completion of their internship. Internees will learn how to manage farm resources: labor, land and capital to ensure high productivity and efficiency of a farm. They will also learn how to manage markets through contract production and ensuring reliable quantity and quality supplies to their customers. Further details on agro studies can also be accessed through: www.agrostudies.com/programs.
This is a paid internship, offered on yearly basis. Students will meet their costs of their ticket, tuition fees, meals and accommodation as well as their preparation costs to join the program.
2. ELIGIBILITY
Eligible applicants should have the following qualifications:
Must be students of Sokoine University of Agriculture pursuing agricultural degree programmes, currently in their final year
Must have no probation carried over to the last semester
Must be hard working, creative and passionate to hard farm works, with desire to become Agri-entrepreneur.
Fluent in both written and spoken English.
Must be physically fit with no known health problem. This must be confirmed by a medical report from a recognized public health facility.
Must have 30 years of age or below
Must be well disciplined with no criminal records.
3. MODEL OF APPLICATION
All interested applicants should prepare a complete application package with the
following documents:
Letter of application,
Motivation letter,
CV and
Reference letters from three different sources parent/guardian, academic supervisor/advisor, and a classmate.
Applicants must send their application package through email to the following address:
The Dean,
School of Agricultural Economics and Business Studies,
Sokoine University of Agriculture,
P. O Box 3007 Morogoro.
Email: saebs@sua.ac.tz copy to daea@sua.ac.tz
NOTE:
All applications must reach the Dean office before (24:00hrs of Thursday 14th May 2020)
Shortlisted candidates will be contacted for an online interview through Skype/zoom.